EDIBLE KOLDING
CONNECTING CITIZENS TO NATURE
THROUGH THE LENS OF FOOD
Intervention-Based Design Program for Local Governments
Edible Kolding is a project
I developed during my studies in the Design for Planet program. The main goal was to engage citizens and communities through experiments to create a sustainable city life.
The project involved a multistakeholder approach, where I established a collaboration between several organizations in the city such as NGOs, the local culture house, the Climate- and Sustainability department of the city, and citizen-led initiatives.
This experience gave me plenty of opportunities to acquire hands-on experience in establishing, managing, and maintaining sustainable initiatives on the local level.
Among others, I applied for local grants and supported the new farmer's market initiative by planning, communicating, and bringing together different organizations in the field of sustainability.
I explored encouraging sustainable behaviours among urban citizens by connecting them to food and nature through experiments. Working with food was a strategic consideration because of its presence in everyday life and its significant impact on our planet. I took on various roles within these different experiments during my investigation.
As a designer, I participated in the everyday life of the city and mapped out the different actors to reveal actionable opportunities. My experiments brought these possibilities to life by providing an example of how they might work in the real world. I believe it is of paramount importance to activate local urban citizens as we rush to act in the fight against climate change. It is my belief that small, local actions can move urban communities towards a more sustainable city life.
RESEARCH
My thesis investigation was driven by the three Research Objectives (R.O.)Whitin these objectives lies my Questions Program and Experiments. Thesis is composed of my Research Questions (R.Q.). These Questions frame the program which is based on the Experimental and Exemplary Design Research. The Program and the Questions shaped my experiments.
I worked closely to several organization throughout Kolding, mainly, Food Reformers. We had several informal talks and interviews with Karin and I collaborated with Kim on the Market and Tommy with the Garden experiments.
Research Objectives and Experiments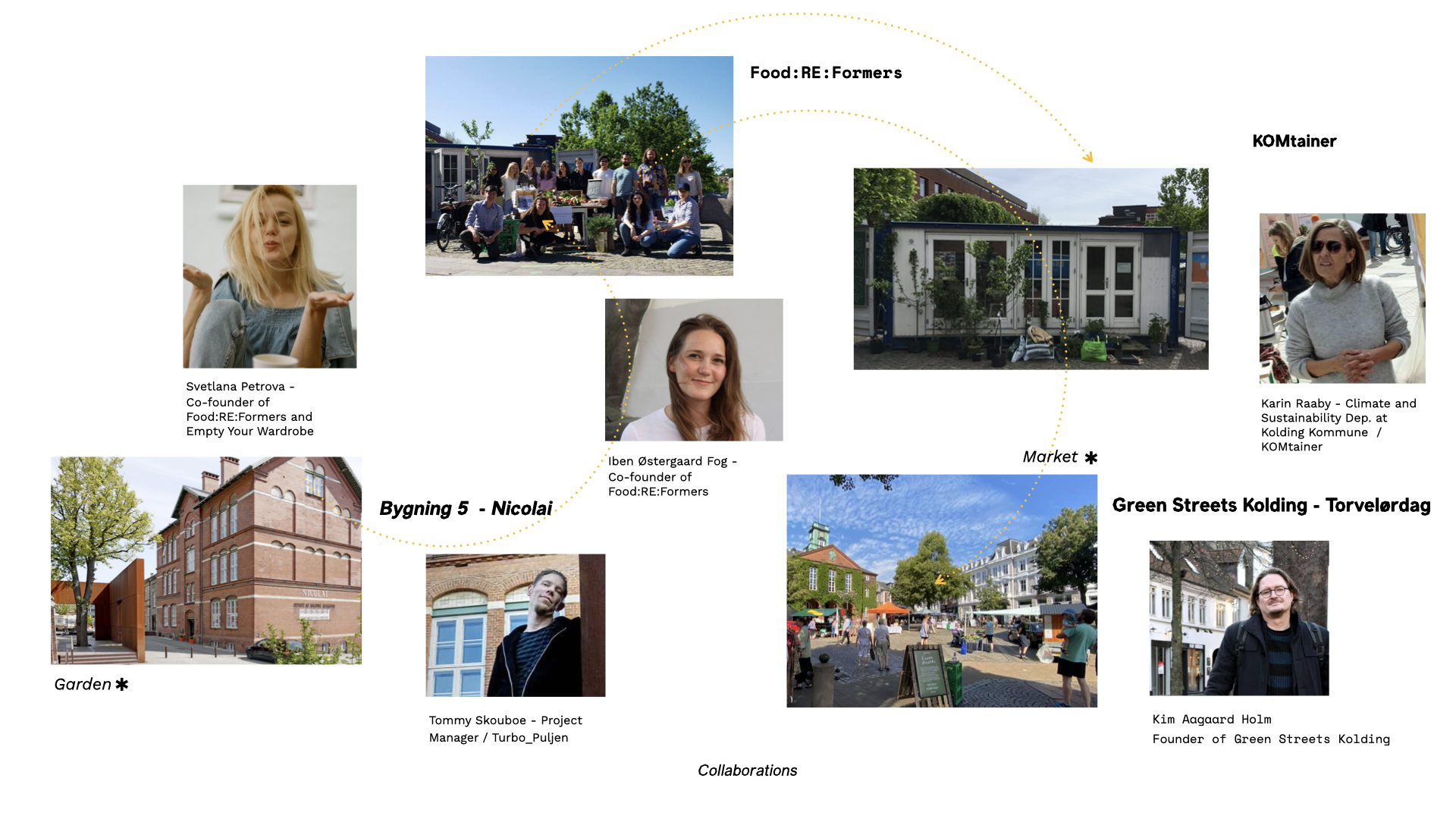 Collaborations Partners
EXPERIMENTS & INTERVENTIONS
MARKET

The goals of the Market experiment were to connect citizens with local farmers and organizations, and experiment with creating an edible landscape in the city center.

I proposed creating an edible plant landscape for the market with trees, bushes, and perhaps furniture integrated with plants. The market itself was an experiment with the tactical urbanism approach and served as an example of what residents are capable of. I concentrated on how the Market could change the city landscape and how to bring edible nature into the market.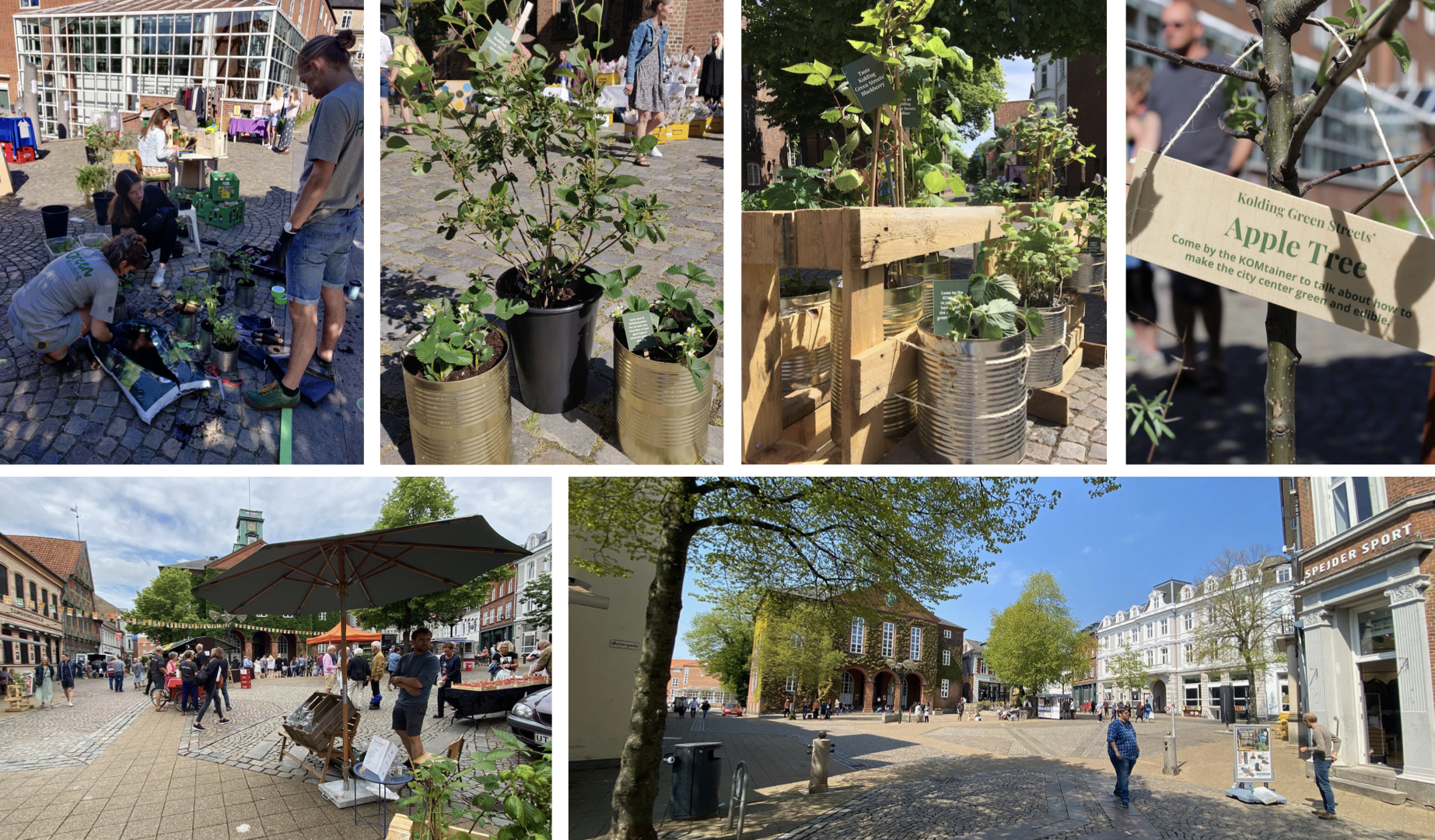 GARDEN


B5 HAVE, the Garden, is an experiment in creating a community around urban nature and growing your own food. The project is a collaboration with the local culture house. The purpose of the garden is to create multifunctional urban foodscapes for human and non-human residents of Kolding.

It can be a venue for events related to learning about gardening, food, and nature. It can also serve as a gathering space for the culture house community. This could possibly promote and strengthen the interaction between people and nature.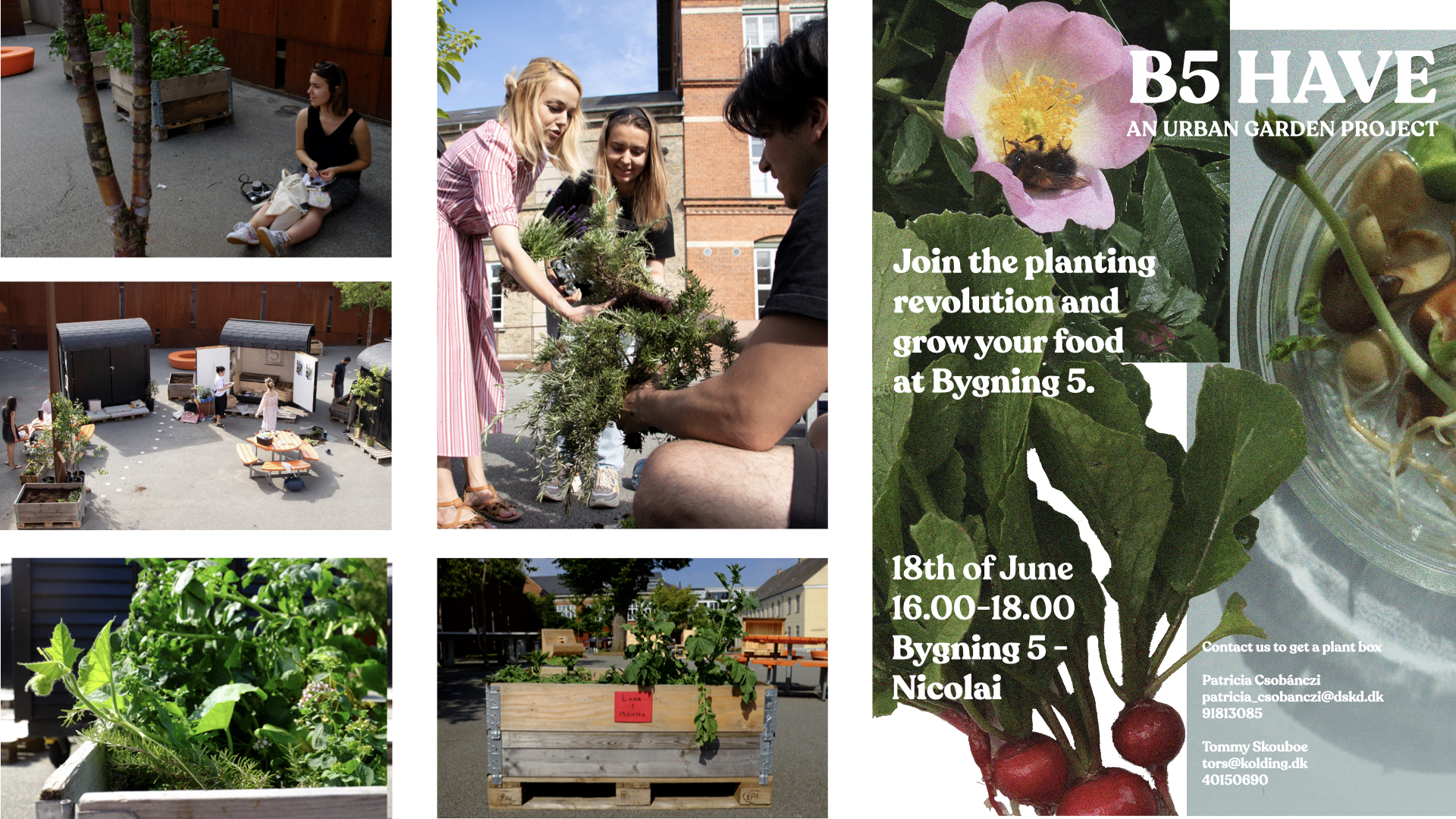 JOURNAL


As part of my field research of urban nature and non-human residents, I looked for edible plants wherever I went in Kolding, observing insects and birds along my way. "It is a known condition that when you begin to pay attention to something you've never really looked at before, you will begin to see it everywhere," says Keri Smith, author of How To Be An Explorer of the World.

This is exactly what happened to me. A new world emerged before me that had been there all along. I wanted to communicate these experiences in some way - to pass them on to help people see what I have learned to see, and also learn about how they see and feel about their own surroundings. I was inspired by scavenger hunts and Wreck this Journal by Keri Smith. I decided to make a Journal with different tasks for people to engage with nature and food in their city to draw inspiration and collect data.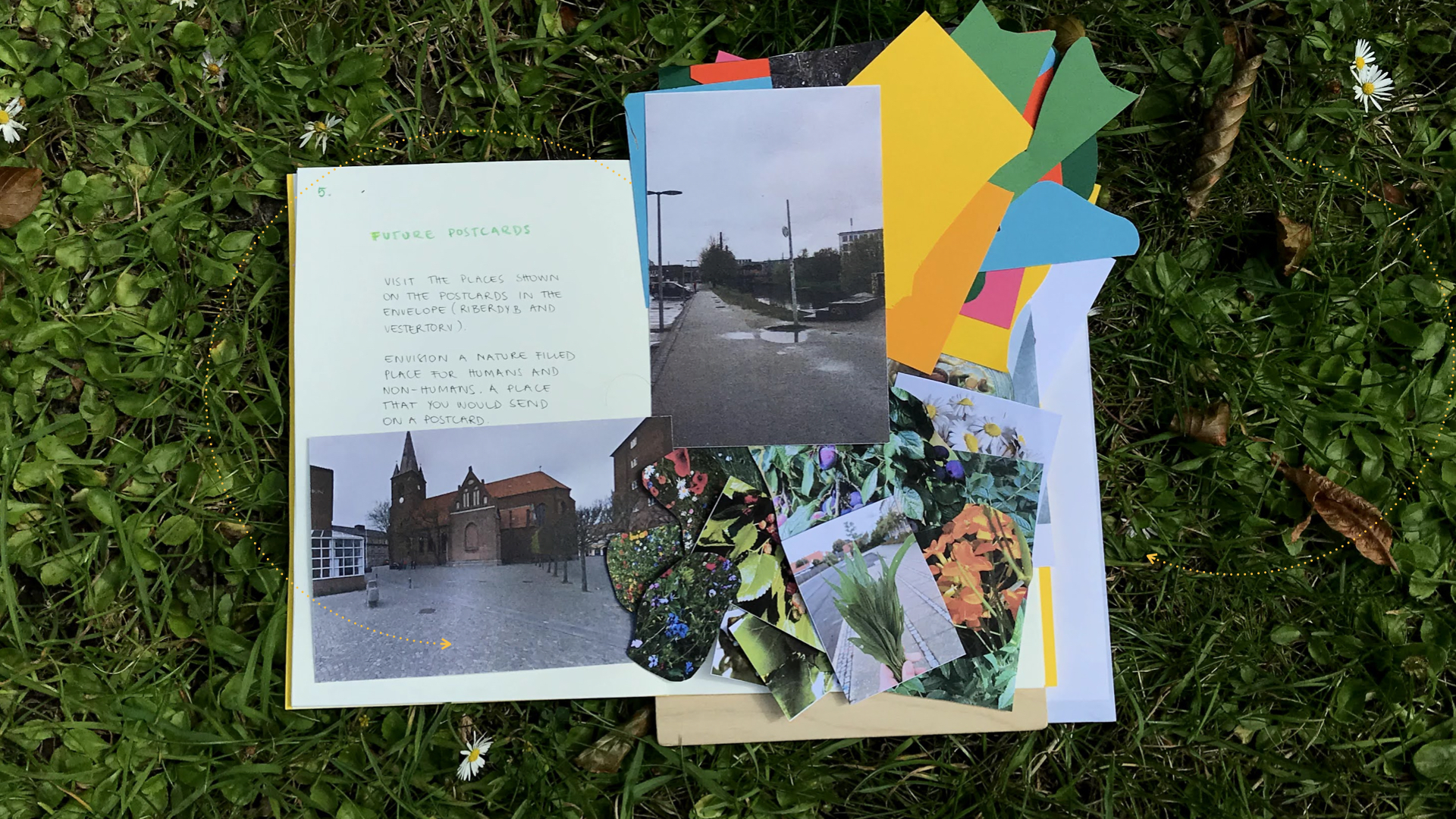 PROPOSAL


As conclusion, I proposed an intervention-based design program for local governments that uses a city-community-citizen approach to address urban sustainability through the lens of food.

A program based on Brandt, E., & Binder, T. (2007). Experimental design research: genealogy, intervention, argument and Binder, T., & Redström, J. (2006). Programs, experiments, and exemplary design research and my thesis investigation where levels of urban life is determined as city, community, and citizens.

I believe my thesis investigation is a beneficial example and possible approach for the municipality. It is a practice-based design program to tackle sustainable urban life through the lens of food with different experiments in scale and approach. The experiments are based around the activation of citizens and sustaining relationships between spaces, non-human residents and our environment. It is not enough to create physical spaces - we also need social invitation that is sustained and guided. These experiments should educate and empower the citizens and create engagement towards their natural environment and its inhabitants.